The regulation to place the birds indoors is valid from 14.12.2022 for the whole Czech Republic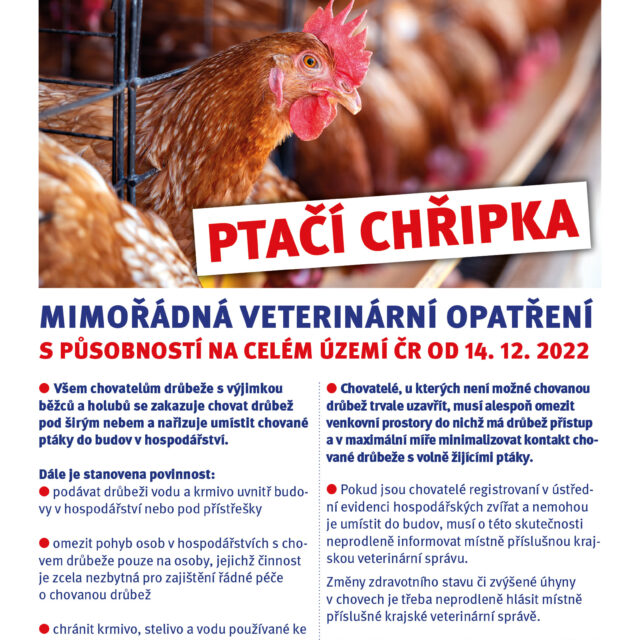 Due to the increasing outbreaks of highly pathogenic avian influenza in the Czech Republic, the State Veterinary Administration (SVS) announces emergency veterinary measures with a national scope. It bans all poultry farmers, except runners and pigeons, from keeping poultry in the open from Wednesday 14 December 2022 and orders them to confine their birds to buildings on the farm. Keepers where it is not possible to permanently confine their poultry must at least restrict the outdoor areas to which the poultry have access and minimise as far as possible the contact of the poultry with wild birds. The aim of the measures to be taken is to prevent the spread of the disease to the holdings.
Four of the six detected outbreaks are located in the Central Bohemia Region. In all cases, it was a highly pathogenic variant of the H5N1 subtype, which is potentially transmissible to humans. The number of new outbreaks is increasing throughout Europe. The risk of introducing the disease into farms always increases significantly in connection with the migration of wild birds. Current information are available on the SVS website SVS bans outdoor poultry farming due to the spread of avian influenza - State Veterinary Administration (svscr.cz) .
Information leaflet for download