School bus for pupils in grades 1 - 3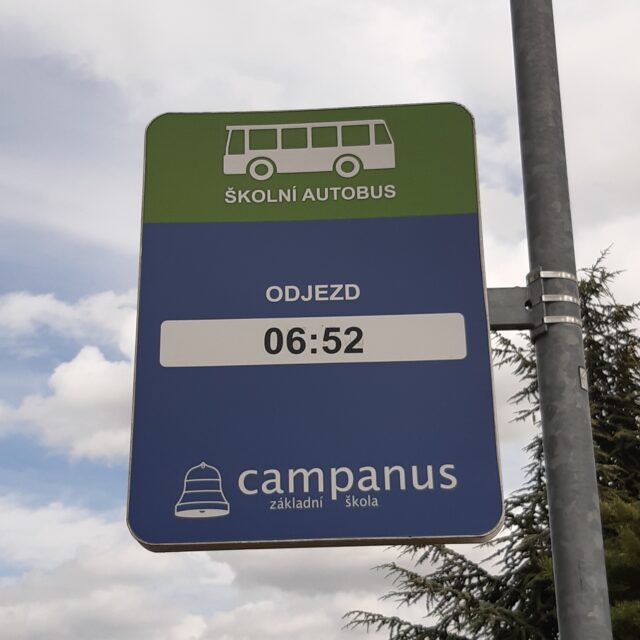 In the school year 2022/23, the municipality of Vestec will operate one morning school bus for pupils in grades 1-3. The contracts can be signed by legal representatives in the municipal office from Monday 29 August to 2 September (until 12:00), the fee of CZK 1,000/year can be paid in cash or by credit card when signing the contract.
From Monday 5.9. the vacancies will be offered to substitutes.
The bus will serve the following stops (marked with their own markers, they do not correspond to public transport stops):
| | |
| --- | --- |
| Vestec, Okružní - Nezvalova | 6:45 |
| Vestec, Municipal Office | 6:48 |
| Vestec, Na Spojce | 6:53 |
| Vestec, U Vodárny | 7:00 |
| Vestec, U Hrnčíř | 7:05 |
| Campanus Primary School (At Kunratice Forest) | 7:25 |
The bus will follow the set timetable and will not wait or turn back.
For older pupils, as in previous years, there will be 4 extended connections of line 326, which will run from Opatov to the U Kunratického lesa stop. One of the connections (6:53 at the Municipal Office) departs from the stop Vestec, BIOCEV and will not be overcrowded with passengers from Jesenice. For the period from 1.-4.9. 2022 is still valid temporary timetable with a detour via Kunratická spojka due to the ongoing closure in Šeberovo, 326 will run from 5.9. 2022  (and now also 331) along its classic route, because Šeberov will be passable again. However, the departure times remain unchanged.
The afternoon bus is open to all children without a signed contract. The bus departs at 16:35 from the bus stop U Kunratického lesa. The children will be picked up from school by a supervisor and handed over to an adult escort at the stops in Vestec. The bus stops at the public transport stops.